Americana Vineyards - Wine List
Americana Wines are listed in order of residual sugar, dry to sweet.
12 bottles per case.
Chardonnay: Dry White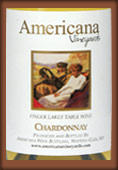 A scrumptious vintage, fermented and aged in European oak. The Chardonnay exhibits
flavors of complex smoky oak with elements of butter and pear.
Serve with veal or grilled fish.

PRICE:
Bottle: $19.99
TO ORDER:
contact us
×
Pinot Gris: Dry White
This wine exhibits soft citrus flavors and a rich floral bouquet, finishing with subtle notes of pear and melon. Pairs well with seafood, light pasta dishes and sharp or smoked cheeses.

PRICE:
Bottle: $17.99
TO ORDER:
contact us
Lemberger: Dry Red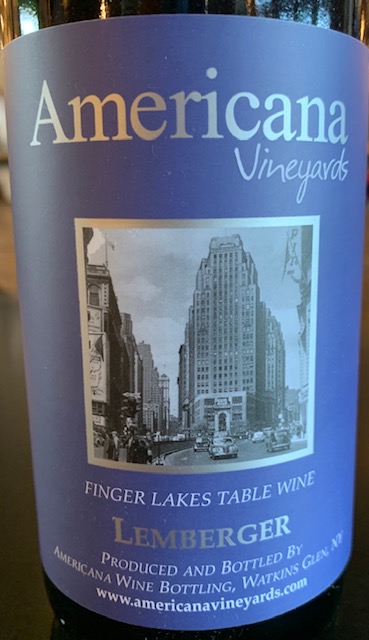 Robust flavors and aromas of raspberries, pepper and oak, finishing with a balance of soft tannins, pepper and oak. Serve with steak and lobster.

PRICE:
Bottle: $21.99

TO ORDER:
contact us
Baco Noir: Dry Red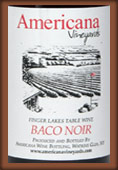 A medium-bodied, deep red burgundy with hints of dark cherries, raspberries and a smooth peppery finish. Serve with grilled vegetables, red and white meats. Prime Rib!

PRICE:
Bottle: $18.99

TO ORDER:
contact us
Revolutionary Red: Off-Dry Red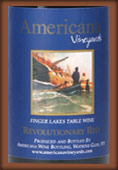 Limited Release Semi-dry Hybrid red blend 'a wonderful taste of autumn with dark cherry and cranberry flavors. Perfect with holiday meals.

PRICE:
Bottle: $18.99

TO ORDER:
contact us
Dry Riesling: Dry White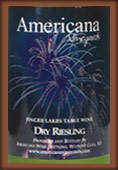 A Dry crisp wine with aromatic hints of flowers and fruits, finishing with flavors of apple & pear.
Perfect for special celebrations and pairs nicely with pork, bacon wrapped asparagus & cream cheese and just about any type of food!

PRICE:
Bottle: $16.99

TO ORDER:
contact us
Riesling: Semi-Dry White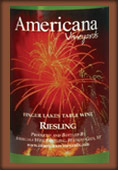 Semi-Dry with aromatics of flowers and fruits, finishing with a hint of peaches, pineapple and apples.
Just the wine for special celebrations!

PRICE:
Bottle: $16.99

TO ORDER:
contact us
Cayuga White: Off-Dry White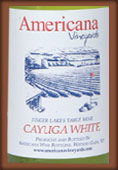 Semi-Dry with green apple characterisitcs. Pairs well with cheeses.
Just the wine for special celebrations!

PRICE:
Bottle: $13.99

TO ORDER:
contact us
Apparition: Semi-Dry White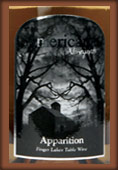 Semi-Dry Vidal grapes with a refreshing citrus body and a lingering finish. Soft nectarine and tangerine. Serve with grilled Salmon or Pork loin/chops.

PRICE:
Bottle: $14.99

TO ORDER:
contact us
Americana Blush: Semi-Dry/Semi-Sweet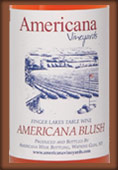 A blush wine with the color and taste of peaches. Delicious served with fresh-fruit, shrimp or chicken salads.

PRICE:
Bottle: $10.99

TO ORDER:
contact us
Americana White: Semi-Sweet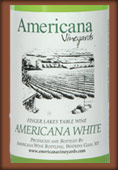 Catawba with citrus overtones and tart finish. Great with Thai, Mexican and Szechwan Chinese dishes.

PRICE:
Bottle: $10.99

TO ORDER:
contact us
Indian Summer: Semi-Sweet

Semi-sweet blended red; reminiscent of an Italian Lambrusco. Great with hot sausage, Buffalo-style wings, Cajun and other full-flavored foods.

PRICE:
Bottle: $10.99

TO ORDER:
contact us
November Harvest: Semi-Sweet
A fruity sipping wine made at the end of the season with a variety of grapes. "Monday Night Football Wine." A great celebration wine. Sangria in a bottle.

PRICE:
Bottle: $10.99

TO ORDER:
contact us
Crystal Lake: Semi-Sweet
Niagara "grape juice with a kick". Serve ice-cold in frozen wineglasses, or use frozen seedless grapes as ice cubes as not to dilute your wine with water. Delicious hot tub wine!

PRICE:
Bottle: $10.99

TO ORDER:
contact us
Sweet Rosie: Semi-Sweet BACK IN STOCK
A strawberry-like dessert wine made with the Ives grape. Serve with chocolate-covered strawberries, cheesecake, chocolate Snickers® pie or Americana's homemade chocolate fudge!

PRICE:
Bottle: $10.99

TO ORDER:
contact us


PRICE:
Bottle: $10.99

TO ORDER:
contact us